Ride Stats
Distance: 17.00 miles
Time: 01:47:00
Avg Speed: 9.53 mph
Max Speed: 20.00 mph
Weight: 150
Effort: 3 - Moderate 11-13 mph
Route: South Africa
Altitude Gain: 0 ft
Terrain: Road: Hills
Bike: Bike Friday SAT R DAY (1st SOLD JULY 2012) SWB Bent
Club: 'BentRider Recumbent Club
Weather Conditions:
What makes a ride interesting isn't always the scenery. Prime example this ride. I went with Ron Thompson who I met through the head of the Audax group in South Africa. Turns our Ron writes for a South African bike magazine, "Ride", and is an encyclopia of other information besides bikes.

When you ride with Ron, his motor is non stop. No, not the one pedaling his bike; the one churning thoughts in his mind and spewing them out as he cycles. Simply, Ron is a wordsmith of the highest order.

Ron presented me with a jersey before the ride. A simple white jersey having the word "Cyc Ous" in big blue letters with the phrase "Old Bike Nuts" underneath. The jersey wasn't made for riders but for thinkers all over. In Afrikans the sound "OH" can mean "old" or "that guy" etc. so Ron coined the Cyc Ous" and if you pronounce it of course it's meant to sound out psychos, which according to Ron you had to have just a bit of to be part of that group. He loves words so the second part can be read as:

"Old" Bike Nuts or as "Old Bike" Nuts. One phrase: Two meanings. And yes most of the members weren't on the younger side of the spectrum.

A highlight of the ride was stopping at "The Cycle Hub", a local bike shop where Ron knows the owners. Ron wanted to take a photo of a couple of unique frames, one of them a "Lotus" frame which was used in the Tour du France. Now that Lotus frame is not legal because there is no "triangle" in the frame. I'll get a copy of the pic from Ron and post it here.

My folding recumbent, a Bike Friday "Sat R Day", received a bunch of attention with the Cycle Lab owner taking it for a spin and marveling over the engineering. Ron only recently caught on to the name of the bike and the part "SAT" of SAT R DAY. When I told him that Bike Friday also makes a tandem and asked him if he could name it, another guffaw erupted when I said: "of course it's a "Two's Day".

On 17 miles, but what a delightful 17 it were.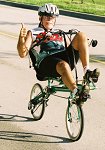 9 member views | 7904 total views report problem |
My Blog Calendar
<<
<
Aug 2011
>
>>
M
T
W
T
F
S
S
1
2
3
4
5
6
7
8
9
10
11
12
13
14
15
16
17
18
19
20
21
22
23
24
25
26
27
28
29
30
31
My Recent Threads
9/1 - Maintenance Report
12/20 - 2023 DAYS CHALLENGE SUNDAY P..
1/14 - 2022 GOALS: YOURS???