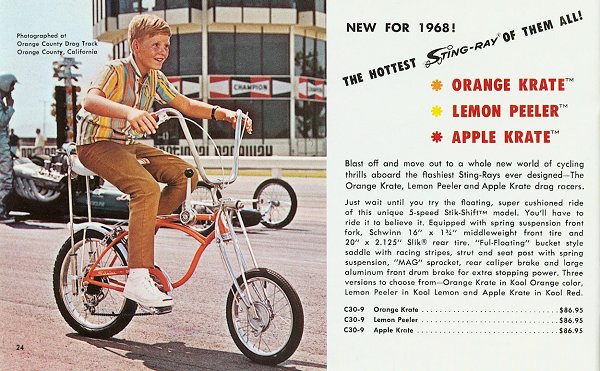 Krate Kruisers


A place where Schwinn Krate riders, unite and ride their Krates!
All Schwinn Krate riders, including the Coal Krate, Blueberry Krate, Grape Krate and Custom Krates, new or vintage, original "survivors" or restored, Coaster or Stik-Shift are welcome!

The original Schwinn "muscle bikes" were first built in Chicago from 1968 to 1973.

With its 5-speed Stik-Shift, 20" x 2.125" rear Slik, 16" front tire, spring strut shock absorbing bucket style "banana seat" complete with racing stripes, 'MAG" sprocket, springer front suspension, high rise handlebars, chrome fenders and aluminum front drum brake, it was, and remains "The World's Most Exciting Concept In Bicycles."

Blast off and move out to a whole new world of cycling thrills aboard the flashiest Sting-Rays ever designed - The Orange Krate, Apple Krate, Lemon Peeler, Pea Picker, Cotton Picker & Grey Ghost drag racers.

"The Hottest Sting-Ray of them all!"

Put some miles on that Krate!