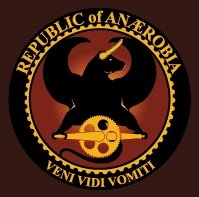 team anaerobia
California

Excerpt from the official website for the Republic of Anaerobia National Team:

Scoured by relentless headwinds, with roads that either snake up impossibly steep mountains or connect scruffy towns separated by almost unimagineable distances, the Republic of Anaerobia is a nation few seem to care to visit. The Republic of Anaerobia is a completely inhospitable nation for the sport of cycling -- but of course we find it perfect for training our National Cycling Team.

Adherents to the Anaerobian Way are scattered far and wide ... it exists as a state of mind that only the devoted care to endure, for it requires breathtaking effort. Basically, the Republic is a place where suffering begets a transient but unmistakable ecstasy.

Traits of the Anaerobian include persistence and the insatiably quixotic desire to explore the boundaries of the Republic. Talent is not a prerequisite- only an appetite for the journey is necessary. For Anaerobians the pain is the reward.

Both seekers and adherents of this truth have earned the right to become a member of the Republic of Anaerobia National Team. And in that spirit we welcome, you, Komrade.